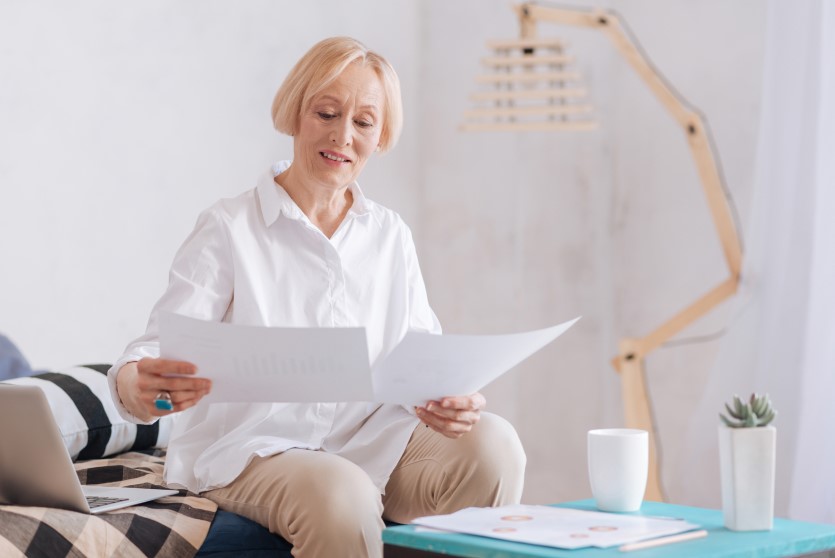 I'm a financial organizer / daily money manager.  I help clients manage their financial paperwork.  In my previous career as an insurance broker, I learned the importance of documenting client needs and information, and I use that experience in my work with senior clients.
Now more than ever my senior clients need the support of another set of eyes or hands patiently helping them pay bills, interpret confusing documents, untangle credit card statements – and so much more.  These are important things that help them continue to live independently.
Whether clients are handling their own finances, or getting assistance from family or trusted advisors, it all starts with basic information.
What information is important to document?
Each Personal Money Manager™ client gets a customized Vital Information document I create and keep up to date.  Each one shows a range of important financial information that includes their sources of income; expenses; vendors with account numbers and contact information; and other details.  This document also includes contact information for family members, trusted advisors, and emergency contacts.
This brings peace of mind to my clients and to people in their lives who provide support.  It's an essential document, not just for a "rainy day" but for every day.
Creating a comprehensive Vital Information document may sound like a big project.  But don't let that stop you.  Here are some success tips for creating this document:
Don't try to finish this document in one sitting
Aim to simply get the ball rolling.  Try setting a timer and doing 15-minute sessions.  Commit to this every day or even once a week.  Stick to it and it will get done.
Use a template to get started
Personal Money Manager™ creates customized Vital Information documents for clients, but you don't need to.  Good hard copy and electronic resources are available.  They range from a two pager from Charles Schwab to AARP's Checklist for Family Survivors.  Another option is One Year to an Organized Financial Life by Regina Leeds.  It spreads the project over a year and goes well beyond information and document gathering.
Keep the document updated
I find it best to keep a paper copy of the document at my fingertips for quick reference, writing in corrections and changes as they occur.  I then periodically enter the information into the spreadsheet, creating a current, readable document that is also up to date on my computer.  Make sure you enter the date of your update.
Keep the document safe
If you keep documentation of sensitive financial or personal information, I recommend you use password protection (with a strong password) and / or store it on electronic media that is not Internet-connected.
Keep the document handy
Information is only helpful if we can find it!  Designate a spot for this document in your home — kitchen or home office, for instance.  A page protector helps it stick out and resist coffee stains!
Is this more than you want to take on? 
Not everyone has the time or the patience to take on this task – whether for themselves or for another family member.  If that's the case, contact us for a complimentary discussion of what kind of help you're looking for.
Learn more about financial organizing
For more financial organizing tips, as well as additional information on what I do for clients as a financial organizer, see my interview with Nancy Rhodes, "What is a Daily Money Manager."  It's on her YouTube Channel, "Caregiver Success."
Photo Credit:  ID 93323849 © Viacheslav Iacobchuk  | Dreamstime.com