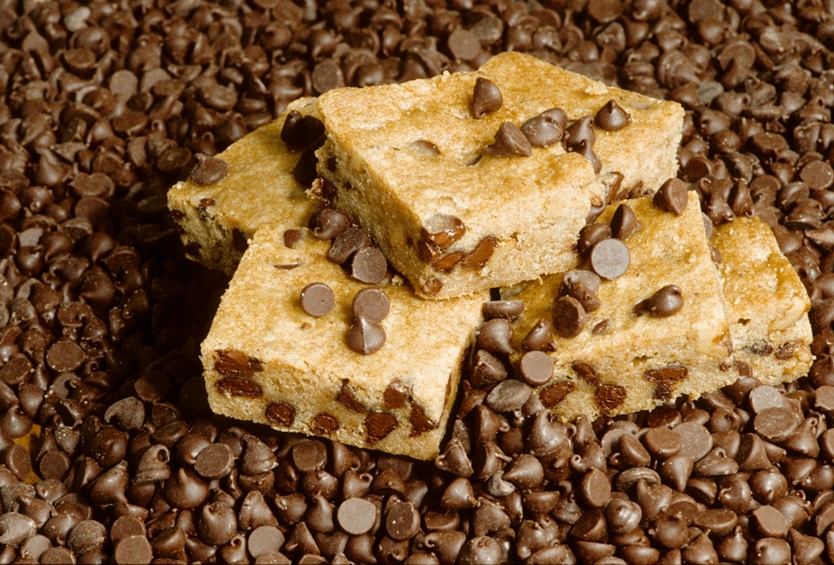 Steve Caccavo was one of the founding owners of The Well-Bred Loaf, Inc.  He invented / re-invented Blondies in the late 1970s, selling them in several thousand stores in the NY Metro area, including Manhattan; and Rockland, Westchester and Bergen Counties. When the company was sold in 1996, the original Well-Bred Loaf® recipes were sold along with it. While this Blondie recipe is not "the original," Steve, along with a number of Blondies fans from long ago, can attest that these are as good as the originals.
Abbreviations: tsp = teaspoon; T = tablespoon (= 3 tsp); C = Cup; oz = ounce. Recommendation: use a large mixing bowl.
Ingredients
1 ½ C all-purpose flour (recommended: unbleached)
1 tsp. baking powder
½ tsp. salt
1 ½ sticks (12 T) sweet (unsalted) butter
10 ½ oz (1 ½ C packed) light brown sugar
2 large eggs
4 tsp. ( =  1T + 1 tsp) vanilla extract
½ C (3 oz) white "chocolate" morsels (use large size, not mini ones)
½ C (3 oz) large semisweet chocolate morsels (use large size, not tiny ones)
4 oz (1 C) pecan pieces OR walnut pieces
First Step:
Preheat the oven to 350 degrees. Put the rack in the middle position. Melt the butter and let it cool.
Toast the pecan / walnut pieces on a metal tray in the oven; set aside to cool.
Line a 13" X 9" glass pan with aluminum foil, with the foil extending over the edges. Spray the foil with "Pam" or brush with butter, to avoid sticking.
Second Step – the Dry Mix:
Mix the flour, baking powder, salt, toasted nuts, and both types of chocolate morsels together in a  bowl.
Third Step – the Wet Mix:
Mix the butter and sugar together in the large bowl until blended. Scrape away from the sides of the bowl with a rubber spatula. Mix in the eggs and vanilla until combined. DO NOT OVERBEAT.
Fourth Step – Add  Dry Mix to Wet Mix:
Stir in the Dry Mix (from Second Step) until just blended.
Fifth Step – Bowl to Pan to Oven:
Transfer the batter into the foil-lined baking pan and spread evenly. Put into preheated oven. Bake the Blondies for about 40 minutes (turn the pan around after 25 minutes for an even bake), then use a toothpick to test the center. If it comes out clean, the Blondies are ready. If not, bake for a few more minutes. The Blondies should be pulling away from the side of the pan. When done, place them on a wire rack. NOTE: in addition to the "toothpick test," if the Blondies are very sunken in the middle, they are not baked enough.
Cooling:
Let Blondies cool completely (2 hrs. or so). Cut into appropriate-size pieces (your choice). Enjoy! NOTE: regardless of the number of pieces you cut, there HAVE been reports of enthusiastic individuals who consider this a single-serving-size recipe.