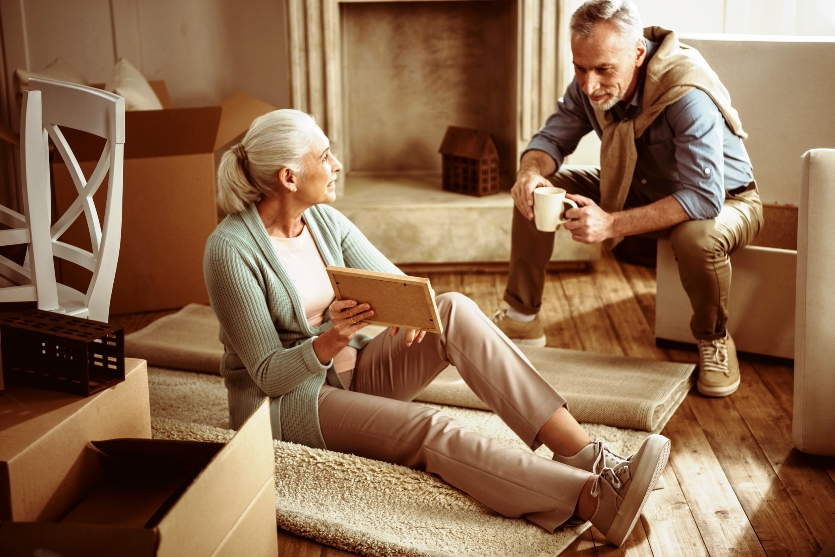 Now that we have survived another Northeast winter, many of my senior clients are wondering, "Should I stay or should I move?"  They often ask me for my input as their trusted advisor (daily money manager/ financial organizer).
Here are some ideas I share with people going through this decision-making process.  If you are a senior contemplating whether or not to move, you may find this these ideas useful.
Start the process
Deciding to make (or not make) a move requires balancing financial, lifestyle, and emotional considerations for everyone involved.  Ignore any one of these at your own peril!
Begin with two lists:  Why stay? And why move?  Brainstorm every "pro" and "con" you can think of — from proximity to long-established friends in the "stay" column to not having to shovel snow in the "move."  Next, prioritize these items for yourself (and your spouse, if applicable).  After all, you may enjoy the change of seasons including snowy winters, so a warm climate may be at the bottom of your "move" list, or not on the list at all.  Highlight any missing information that needs further research—like how moving might affect your tax situation or limit or expand your healthcare options, etc.  A daily money manager (financial organizer) can help fill in the blanks so you have as complete a picture as possible.
Looking more closely at the financial side, start with a clear eyed analysis of what it costs to live in your current home and locale.  Review several months of expenditures, or even several years, to be sure you are capturing less-frequent home maintenance expenses such as replacing a water heater or roof — in addition to the on-going cost of keeping up your home.  Ask your accountant how the new (2018) tax law might limit your ability to fully deduct state and local real estate and income taxes.
A fee-based financial advisor can make projections that factor in the various financial consequences of selling your current home (including taxes on any capital gain) and advise you whether it makes more sense for you to buy or rent your next home.
Aging client, aging home
When exploring the option of staying put, don't assume that nothing needs to change.  How well is your current home aging along with you?  Are you willing to make the investment in time, effort, and money for regular upgrades plus those that will make your home more suitable to your current stage of life?  These three resources address that topic and are worth exploring:
"Housing America's Older Adults: Meeting the Needs of an Aging Population" by the Joint Center for Housing Studies at Harvard University (click on "research"). This study identifies five features that make for safe and accessible homes—from no-step entries to lever style door handles and faucets. [Note; as of the publication of this article, this website was having technical difficulties; if you can't get there, give it a day or two and try again.]
"Aging-in-Place Remodeling Checklist" by the National Association of Home Builders. Here are more than 100 suggestions that can help homeowners age 50 plus to live safely, independently, and comfortably in their homes.
"HomeFit Guide" from AARP. This 26 page report, filled with diagrams, describes how to create a "lifelong home."
Happiness is…
While finances come to mind first, there's an emotional aspect to every move.  A Wall Street Journal article (June 2016), "The Complicated Psychology of Buying and Selling a House," explored some of the psychological "missteps" that buyers and sellers often make.  While your college years are well behind you, a study of college undergraduates cited in the article sheds light on the emotional factors that affect people of all ages in making a successful move.  In the study, students were asked what aspects of their dorm choice—from location on campus to room size—they thought would make them happiest.  When researchers checked back with respondents months later, guess what was the only consideration that influenced their happiness?  The social benefits their dorm provided.
If you replace "dorm" with the house, development, or community you are considering, can you learn something from these young people's experiences?  Perhaps it's this:  after doing the analysis, take off the green visor and consider where would you be happiest socially.